What Is Omnichannel Commerce?
by Kathleen Booth, on May 18, 2021 9:00:00 AM
Omnichannel commerce, or omnichannel retail, refers to a multichannel approach to sales and marketing strategy that ties each channel together seamlessly, meaning that the inventory and experience a customer receives at your physical store stays the same regardless of how a customer patronizes your business.
Given the unprecedented growth in ecommerce over the last several years, understanding omnichannel commerce - and having a plan for how to tackle is - is an important part of any ecommerce strategy.
Difference Between Channels
By its very nature, "omnichannel" means that multiple channels are involved in a company's marketing. Here's how it compares to other approaches.
Single Channel
This is when a company sticks to one sales channel, whether brick and mortar or entirely online.
Multi Channel
Companies will often try and expand their sales channels, but this doesn't always mean their products/services/inventory are the same.
Sometimes, what a company offers in its brick and mortar store may differ from their online shop or paper catalog. This is commonly known as a multichannel approach.
Omnichannel
Omnichannel commerce is similar to multichannel commerce in that there is more than one sales channel used to grow the business, but its different in that each channel offers the same product, inventory, and experience.
With omnichannel commerce, the items online or in your catalog are the same ones the customer can buy in your brick and mortar store.
What You'll Need
Streamlining your sales and marketing channels can improve customer engagement and boost your conversions, but you will need some proper structuring to pull off a true omnichannel commerce strategy.
Mobile Friendly Website
Customers want to be able to bounce between channels no matter what device they are using. Optimizing your site for mobile is a crucial component of creating a seamless experience for your online customers.
And with half of customers shopping on their phones, disrupting their journey with a site that's not is unintuitive on mobile will likely drive customers away.
Data-Driven Marketing
The word "omni" may lead you to think that you need to be everywhere, all at once, to reach customers, but this isn't the case.
Check in with your CRM and collect data to figure out who and where your customers are. Focus your efforts on those touch points and try to find where customers may be leaving your sales funnel. Check in on your marketing channels to see what's performing well and what may need some adjustments.
Filling in those gaps are the steps into creating a seamless omnichannel commerce experience for your customers.
Shoppable Posts on Social Media
Using social media as a place to not only advertise your brand, but also as a place for customers to convert on your products is a great way to take advantage of an omnichannel commerce strategy.
Think of social media like an online Grand Bazar, where people spend hours a day scrolling, chatting with friends, and making purchases through marketplace features.
If you plan on taking advantage of this strategy, make sure you also leave a link to the actual product page on your website in case a customer wants to learn more about the product or your brand.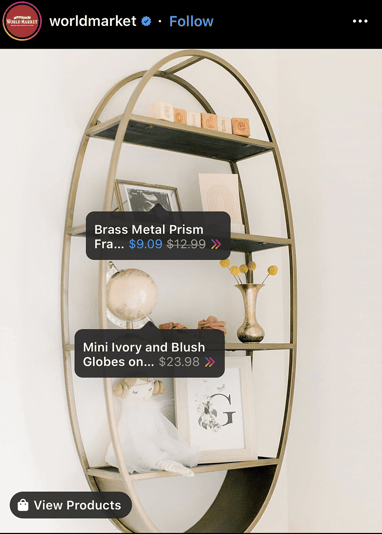 Inventory Management
By using an omnichannel approach, you are opening many pathways that all lead to one single inventory. This kind of increase in demand can be a threat to your business if you are not properly prepared to deal with it.
For example, In 2013 retail superstore Macy's spent millions boosting sales across all of its shopping channels. But because the company was using a dated inventory management system, items were constantly out of stock, considerably eroding its profit margins.
If you are going to make the shift to omnichannel, having your inventory system up to date and capable of fulfilling orders across multiple channels is critical to success.
Benefits of Omnichannel Commerce
There are a number of reasons that pursuing an omnichannel commerce strategy could benefit your ecommerce business.
Better Customer Experience
A seamless, fluid shopping experience is always better than a clunky, disjointed one. Customers want to interact with your brand in a way that feels natural to them, and having them jump through hoops in order to find the exact product they want from you is going to take them out of that feeling and may drive them away.
Omnichannel commerce gives the customer a smooth experience they don't have to think about to make a purchase.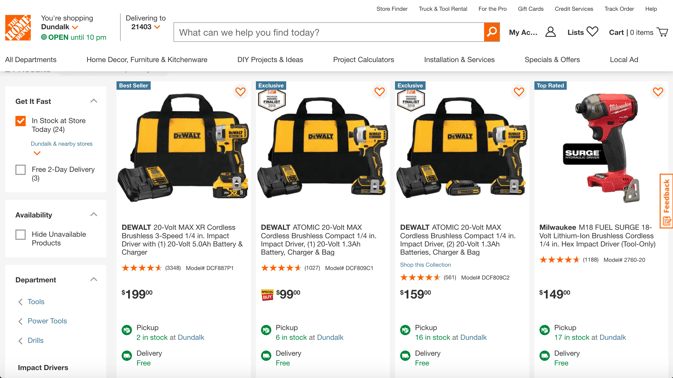 Better Data
No matter what you're doing, the more data the better.
Using multiple channels and stitching them together into a seamless buying experience will give you more information about who your customers are and what kind of marketing they respond to, allowing you to serve them with a more personalized experience.
An omnichannel approach gives you insights on how to create content and/or offers that will better engage customers both online and in your physical stores.
More Valuable Customers
Studies have shown that customers who shop across multiple channels are not only more likely to convert than single-channel customers, but also have a larger average cart value (ACV).
Increased Customer Loyalty
The same studies also find that omnichannel customers are more likely to make repeat purchases than single channel customers.
Challenges of Omnichannel Commerce
Despite the benefits, there are a number of challenges inherent in pursuing an omnichannel commerce strategy.
Getting the Right Infrastructure
As mentioned above, having the right tools to properly manage an omnichannel strategy can be challenging. You want to make sure that you can pull off the kind of order fulfillment and customer service that comes along with this kind of structure.
Proper Integration
Even if you manage to structure yourself properly, operating within that structure can be a challenge. You're going to have to multitask, so communication and efficiency across channels is key to properly managing an omnichannel commerce structure.
Stumbling in these categories may lead to a disjointed user experience and, ultimately, could turn away frustrated customers.
Wrapping Up
If you go the omnichannel route for your business, it's likely you'll have an increase in customer satisfaction and customer loyalty, which will in turn increase the profits of your business.
Reaching customers across multiple platforms and providing them with one seamless experience will certainly have its challenges, but in an increasingly digital ecosystem, the benefits far outweigh the costs.