What Is Influencer Fraud (And How Can You Avoid It)?
by Kathleen Booth, on Dec 10, 2020 9:00:00 AM
Influencer marketing has been around for a long time, and when done right it is a highly effective way to expand brand reach, drive sales, and increase customer loyalty.
Let's face it. When a company advertises its own products or services, buyers are typically less trusting of the quality or usefulness of the product than they are when a seemingly unbiased third-party endorses it.
This is reflected in the data:
Influencer marketing is utilized by just about every kind of business, small and large. With influencer marketing, companies can reach more buyers and generate more sales.
But as the use of influencer marketing has increased, it has also given rise to influencer fraud. Today, more than 64% of marketers say they are concerned about influencer marketing fraud.
Keep reading below to find out how you can identify and avoid influencer fraud.
Table of Contents:
What is Influencer Fraud and How Can You Avoid It?
Influencers use social media platforms to advertise products to their audience and followers. Platforms such as Pinterest, Instagram, Youtube and Facebook are especially popular amongst influencers, with 79% of marketers citing Instagram as the most important channel for influencer campaigns.
After being contacted by a company, influencers will share products with their followers, who in turn will be encouraged to buy the product. Influencers are generally compensated either via a fixed fee or a percentage of sales that can be attributed to their campaign.
What is influencer fraud?

Influencer fraud occurs when an influencer manipulates their numbers, appearing to have more followers or influence on purchase behavior than they actually have. Because businesses often choose influencers—or worse, compensate them—on the basis of these numbers, this deception is damaging to the entire transaction.
Fake followers are empty accounts with no real people behind them. When a company pays an influencer based on either false attribution of purchases or fake followers for advertising, that money is essentially going down the drain.
While follower numbers and engagement rates are still used to select influencers, there are other ways to make sure that an influencer actually has a strong follower base. One way to do this is to ask for screenshots of their story views and data for link clicks and engagement.
Bottom line: influencer fraud is a tricky business. And it's bigger than you might think.
There are two primary ways that influencer fraud can rear its ugly head. The first is with fake followers and the second is with fake purchases (in this case, you might also hear it referred to as "affiliate fraud" because the influencer is acting as an affiliate for the business). Both are costly to your business and can cause reporting and ROI measurement problems.
If you believe your marketing budget is suffering from either fake followers or fake affiliates, keep reading below to learn how to spot them. And be sure to check out GRIN's Fake Influencer & Credibility Tool, which helps marketers identify potentially fake accounts in order to prevent revenue loss.
Influencer Marketing Fraud - Fake Followers
Today, 90% of companies use influencer marketing to advertise their products, and this number is expected to grow as influencers gain more influence over buyer choices.
Influencers make money by promoting a brand or specific product. This may take the form of a long-term partnership with a company, or it may be a one time promotion. Influencers may offer their followers a special promo code or post about how the products have made their lives better. In the former case, the influencer may be paid a percentage of the sales that can be attributed to that promo code. In the latter, influencers are usually paid a fixed fee, with some making thousands of dollars per post.
Influencer marketing is popular because it works. 89% of companies find that influencer marketing produces similar or higher ROIs than other strategies.
There are a few ways that companies can partner with influencers to make money:
Promotions: Influencers may post a review of a product explaining why they use and love it.
Promo codes: An influencer may share a product along with a specialized promo code that followers can use to get a percentage off of their purchase.
Special links: A company may provide an influencer with a link that they will share with their followers to promote a product.
Giveaway: Businesses provide free products to an influencer, who will then host a giveaway for their followers.
Sponsorship: This is essentially a paid advertisement where an influencer will share a photo of, or with, the product.
All of these methods help to increase reach and buyer engagement for a brand. So, while a company may have to pay an influencer for their participation, hundreds of thousands of potential customers may decide to purchase a product because of the influencer.
According to Influencer Marketing Hub, for every $1 that a company spends on an influencer, they earn $5.20 back. This means that the average influencer marketing ROI is $4.20. This is vastly superior to the average PPC or traditional marketing ROI of $1.09. Any brand could be making a high return if they find the right influencer, with the right audience.
The problem is when businesses choose the wrong influencer who has an audience that is either too small, or is largely comprised of fake followers. When influencers pad their follower numbers with fake (often purchased) accounts, that is a form of influencer fraud.
Influencer fraud costs companies around 15% of their marketing budget every year, and it becomes an even bigger problem when marketing teams don't spend the time to properly vet an influencer.
Companies may lose out if an influencer doesn't reach as many followers or generate as many sales as predicted. This is why it is so important to correctly screen influencers.
Fake Influencers and How to Spot Them
There are a few ways that influencers participate in fraudulent activities. One of these is through buying and selling fake followers. Fake follower accounts are usually brand new and function like bots. Their profiles may have little to no content and they may have few, if any, other friends or connections.
The last thing that a marketing team wants to do is pay an influencer with fake followers. Here are a few ways to spot fake followers or determine if an influencer has purchased fake followers:
Engagement metrics: On average, a 3%-5% engagement rate on a platform like Instagram is considered healthy. If an influencer has 10K followers but is only getting 10 likes on a post, then their followers are most likely fake.
Profile details: Fake followers will lack basic biographical information and other connections. They may not have profile pictures, bios or any kind of content such as photos or posts.
Patterns: If an influencer suddenly gains 2K followers in a day when they've historically averaged a much smaller daily new follower number, they're probably buying them. Look for spikes of followers and then subsequent minor activity.
Activity: The follower accounts are inactive.
These are the easiest ways to spot fake followers and fraudulent influencers, but there are also platforms that can screen influencers in greater depth. Some platforms ban accounts that use fake followers and delete accounts that may be considered fake.
The two most well-known platforms that do this are Instagram and Facebook. There are also unconfirmed (but consistent) reports of Instagram "shadowbanning" accounts with fake followers before actually banning them.
How Can Marketers Accurately Measure the Value of an Influencer?
There are a few ways that marketers can measure the value of an influencer. A primary way that marketers do this is by calculating how the influencer engaged their followers when promoting a product.
There are a few parameters used to measure this:
Clicks to website
Engagement rate
Impressions
Customer conversions
Revenue
Businesses can also track influencers through websites such as NeoReach and TapInfluence. These websites aggregate all of the data that a marketing team needs to determine whether an influencer is of value to the company.
Influencer Marketing Fraud - Fake Purchases
While the first category of influencer fraud is pretty well known, the second category is relatively new and has been brought about with the increased usage of coupon browser extensions (think Honey, Wikibuy, etc.). This particular type of fraud can be harder to detect, because on the surface it will look like your metrics are showing great success.
Because of the prevalence of influencers with fake followers, many ecommerce businesses have shifted the way they pay influencers and instead of a flat fee, they are increasingly paying influencers as a portion of the purchases they drive.
To do this, they provide a dedicated promotion code that the influencer shares with their followers and that offers a discount to buyers. Any purchases made with that promo code are then attributed to the influencer and the influencer is paid a commission based on the number of sales they generated.
This model reduces risks associated with fake followers, but has created a new kind of influencer fraud that is more akin to what has traditionally been referred to as affiliate fraud.
---
Discover a solution built to help you block the negative effect coupon extensions have on your bottom line.
---
How Influencers Falsify Purchases
Coupon extensions like Honey are all the rage for ecommerce shoppers these days. From a consumer perspective, they seem great because they help shoppers find available deals from the sites they frequent.
However, for ecommerce merchants, they bring a host of problems that eat into revenues and profit margins, and reduce the accuracy of revenue attribution.
One source of frustration for ecommerce merchants is that coupon extensions allow users access to limited use coupons that are not intended for them. For example, merchants might offer new newsletter subscribers a 10% discount off their first purchase, or may extend a particularly generous discount to certain categories of their customers (think veterans, first responders, teachers, or healthcare workers). Coupon extensions get these codes and make them available to anyone using the extension.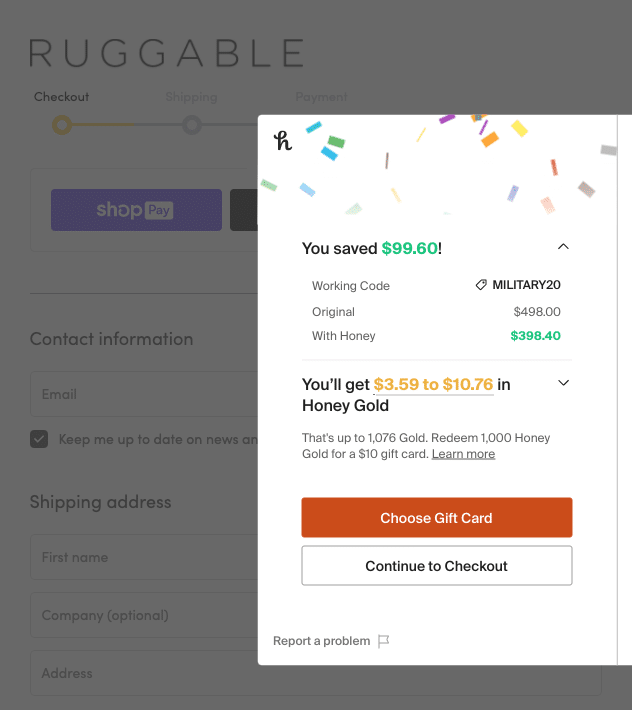 There are a number of ways that coupon extensions can get a hold of promotion codes for your site. First, buyers can actually manually submit codes to the extension. Second, codes can be scraped from your site by the extension itself when a user (who happens to have the extension installed) enters a code they were legitimately given at checkout.
A very common tactic used by influencers committing affiliate fraud is to submit the promotion code a merchant gave them to as many coupon extension platforms as possible. This is a quick and easy way for them to get the code to a large audience and results in any buyer who comes to your site, that has said coupon extension, being able to access that promo code whether they have a connection to the influencer or not.
Now, purchases are rolling in by the truckload using your influencer promotion code, but none of them may have actually come as the result of the influencer—and, you may owe that influencer a hefty commission, but have zero clue as to how many purchases they actually created for you.
This kind of influencer fraud is a drain on both ecommerce revenue and attribution, with the merchant being left with large bills and no real understanding if their marketing efforts were successful.
The increased usage of coupon extensions like Honey, Wikibuy and others in recent years has made this tactic far more prominent (and possible).
Steps To Avoid Influencer Fraud
No business wants to spend thousands of dollars on an influencer, only to lose money due to fraudulent activity.
Follow these steps to avoid influencer fraud:
Screen influencers before contacting them. The first place to look is the number of followers versus likes or other forms of engagement.
Use a third-party website to check an influencer's follower and engagement data.
Look through past posts to make sure that the influencer fits your brand's vision and values.
Double-check any photos that look as though they may be fake or stolen by using reverse Google image searching.
Check who is commenting on posts. If it is the same people over and over again, or the comments are unrelated, then they are most likely fake accounts.
Have a coupon extension blocker in place to stop false attribution of influencer promotion codes.
These are only a few of the steps to avoiding influencer fraud. The biggest takeaway to remember is: when in doubt, move on. There are thousands of influencers waiting for brands to approach them. A marketing team should take the time to find an influencer with the right audience, style and values that would be a great fit for the brand.
---
Protect Your Ecommerce Margins
Increase average order value by blocking discount codes from coupon extensions like Honey, CapitalOne Shopping, Piggy, and more.
---
FAQs
Here are a few answers to frequently asked questions about influencer fraud.
What Should the Industry Be Doing to Fight Influencer Fraud?
Companies should heavily vet influencers before deciding to take them on as an advertiser. Ask for data on story views, likes, sticker and link taps and more. Marketing teams should also look at hashtag use – excessive hashtag use suggests that an influencer may not have as strong of a follower base as it seems. There are even companies that provide services to collect all of these metrics for marketing teams.
Ecommerce merchants should also take steps to block coupon extensions, preventing any problems with fraudulent purchases before they have the opportunity to become a problem.
What is Influencer Fraud and What Constitutes Fraudulent Activity?
Influencer fraud occurs when influencers purchase followers, participate in follow-back campaigns, use influencer pods or purchase follower bots to make engagement rates seem higher than they really are. When companies hire fraudulent influencers, they risk a low return on that investment.
A newer type of influencer fraud is when an influencer falsifies purchases attributed to their efforts.
How Can You Measure the Success of an Influencer Marketing Campaign?
Measuring the success of an influencer marketing campaign happens in a few ways. The most common way to track success is to create a special promo code or URL for the influencer so that their generated revenue can be tracked. There are also platforms in which you can track engagement, impressions, customer conversions, and more to measure ROI.
Does Instagram Remove Fake Followers?
Instagram may remove a fake follower if the account has been inactive for a long time. There are algorithms that Instagram uses to identify which accounts are real and which are fake. Instagram may also ban accounts that have purchased fake followers.