Online Coupon Strategy: Types of Coupons to Try
by Kathleen Booth, on Jul 13, 2021 9:00:00 AM
Using discounts and coupons to grow sales and acquire new customers has been a cornerstone of marketing since 1888 when Coca-Cola first offered paper coupons that were redeemable for one free bottle of their now world famous cola.
In recent years, online retailers have adapted the technique for use in the digital era.
In this article, we'll cover the different kinds of discounts and coupons digital marketers use and why, along with some of the challenges coupons bring to your business.
What Are Digital Coupons and Why Should You Use Them?
In the digital era, coupons have remained an effective way to attract new customers and encourage repeat business. While cutting out and redeeming a physical coupon may not be possible on the internet, digital coupon codes and automatic discounts are just as if not more effective than their paper predecessors.
In fact, more than 90% of online shoppers say they've used a digital coupon in the past, while 81% of consumers would take additional action, such as enrolling in a loyalty program or signing up for a newsletter, to redeem a rebate or coupon. (CreditDonkey)
So if you are looking to expand your newsletter, grow your social media presence, or just acquire new customers, coupon codes are a simple and effective way to engage customers.
Types of Coupons To Try
Downloadable Coupons
Downloadable coupons may be earned online, usually through email, social media, or directly off a company's website, but they often have to be scanned in-store in order to be redeemable.
If you find that you have great online engagement, but aren't seeing the numbers you'd like in your brick and mortar store, this is a great way to get online shoppers to come back to your physical location.
Mobile Coupons
Mobile coupons are often distributed through SMS, MMS, bluetooth, or other mobile means.
They can be in the form of either scannable in-store coupons or coupon codes to be entered online, and are therefore equally effective for boosting traffic to your ecommerce store or your brick and mortar retail store.
If you find a lot of the visitors to your online store are using mobile devices, you can offer them a discount code for entering their mobile number for SMS updates and deals. This way, you capture information that can be used to retarget shoppers in the future.
--Article Continues Below--
--Article Continues Below--
Coupon Codes
Coupon codes are the most popular type of online discount. Easy enough to set up and distribute, quicker than downloading a coupon, and simple for a customer to use during checkout, a coupon code is a unique combination of characters that are a shopper's key to a promotion or sale.
These can be created, distributed, and tracked by many ecommerce website platforms and apps and offer an easy way to set up sales promotions or incentives to grow your business online.
Automatic Discounts
Automatic discounts refers to discounts that are automatically applied after the user takes a certain action on your site. For example, offering users free shipping when their checkout cart is over a certain value, or giving a discount when they add a certain item to their cart.
These types of discounts are often used to increase overall cart value or move a particular high-value product.
-- Article Continues Below --

Read Now: The Complete Ecommerce Resource Center
-- Article Continues Below --
Risks Of Using Digital Coupon
While discount campaigns have long served ecommerce marketing teams, they don't come without their risks. Offering discounts can leave you vulnerable to:
Coupon Fraud
Everyone loves a discount and the prospect of saving money often causes shoppers to engage in behavior they might otherwise consider questionable. For example, recent data from Kelton indicates that 35% of consumers who have redeemed an exclusive offer did so when they knew they really didn't qualify (Kelton).
There are a number of reasons that coupon fraud can negatively impact your business.
If you've created a limited use code intended for a specific audience, coupon fraud not only means you may not be hitting the demographic you thought you were, but if you've created special codes for veterans, employees, teachers, etc. it's possible these codes could be used up before the right people are able to take advantage of them.
Sometimes, coupon fraud isn't a deliberate act on the part of the shopper. The best example of this occurs with browser extensions like Honey and CapitalOne Shopping, which scrape previously entered coupon codes off your site and distribute them among all their users (more than 17 million people). When this happens, it can wreak absolute havoc on both your margins and your attribution reporting.
Affiliate Fraud
One way that many ecommerce brands use coupon codes is to track the performance of their affiliate marketing efforts. In many cases, brands are also compensating affiliates based on a percentage of the sales they drive (as determined by the usage of their unique code).
If the affiliate codes you've created are scraped and shared by extensions like Honey and CapitalOne Shopping, or on coupon discount sites, you could end up overpaying your affiliates for sales they didn't earn.
If you're interested in protecting your business from affiliate and coupon fraud, check out our cleanCART free trial here and see what blocking automatically injected coupon codes can do for your profit margins.
Higher Shopping Cart Abandonment

Many ecommerce websites include a promo or coupon code box at checkout. In theory, buyers that have a coupon code are more likely to convert, however putting a coupon entry box in your checkout may actually increase the number of buyers who abandon their cart. This happens when users go looking for a coupon code, then get distracted or not return when they are unable to find one.

Damaged Brand Reputation
Brands that hand out too many discounts usually end up damaging their reputation, as an over-leveraged coupon campaign can make users question the quality of your product or service.
When this happens, you'll have to keep up your discounting in order to maintain customer loyalty, as you have now managed their expectations by offering discounted products.
Spending Too Much to Acquire a Customer
When offering discounts, it's important to consider what the long term value of acquiring a new customer may be. This is because in many cases, coupons and discounts are loss leaders, meaning you will only make money if the person who uses them continues to buy from you.
Unfortunately, recent data from CM Commerce indicates that 94.83% of shoppers who purchase via promotions are single interactions. (CM Commerce). This means you'll probably have to end up spending again to re-engage 95% of your sales through a coupon promotion — or risk losing money.
-- Article Continues Below --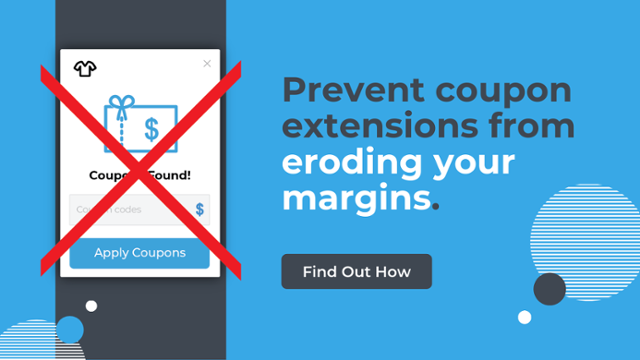 -- Article Continues Below --
Wrapping Up
If you're looking for ways to boost site traffic, increase brand awareness, or retarget customers, coupon codes and discount promotions are a simple and effective first step.
But if not properly managed, they can also come with several risks. If you're looking for a tool to better understand your coupon campaigns, block unwanted coupon injections, and see how your discounts are being redeemed, check out our cleanCART free trial here.