Protect Your Q4 Revenue from the Dreaded Q4 Malvertising Spike
by Marshall Moritz, on Sep 2, 2020 10:37:33 AM
As a publisher, you know Q4 is your quarter. The advertising industry sees a huge spike in advertising dollars during the final quarter of the year, and upwards of 30-40% of your revenue for the entire year comes during Q4.
It is the time when you have the highest revenue potential, and when you often have the most number of users on-page. The primary reason for this is typically a surge in spending around the holiday season particularly with major retail events like Black Friday and Cyber Monday.
This year's Q4 is poised to be bigger than ever before. The confluence of Q4 advertising dollars in conjunction with a massive surge in COVID-related e-Commerce behavior (including Amazon Prime Day!) and the upcoming 2020 election spending should present record revenue opportunities.
On the precipice of your biggest, most profitable quarter of the year, making sure your revenue streams are secure and protected becomes even more important. There is a lot of revenue at stake, revenue that could help overcome some of the pain of a very rough year for many publishers.
-- Article Continues Below --
Visit the Complete Malvertising Resource Center
Holiday Increases in Advertiser Spending
Historically Q4 is universally the most profitable quarter for publishers and is the time at which ad revenue and CPMs will hit their peaks. This is led primarily by the huge surge in shopping that accompanies the holiday season.
With major shopping events like Prime Day in October, Black Friday, and Cyber Monday, promotions and advertisements to drive shoppers to purchase are huge. Advertisers are ready to spend, demand increases, and your revenue opportunities go through the roof.
Advertisers are prepared, with campaign budgets two to five times greater in Q4 than typically quarterly spend. In fact, during the week preceding Black Friday, CPMs are on average 45% higher than typical, and bid prices can increase by upwards of 140% during the holiday season.
COVID-Related Shifts
In addition to the annual rise in holiday ad spending, this year will be compounded by new behaviors related to COVID. The 2020 holiday season is poised to be owned by eCommerce, making digital advertising even more important in driving sales.
Salesforce is predicting that the 2020 holiday season will set a new precedent for ecommerce penetration. Their findings show Q2 of 2020 showed an increase in digital revenues of 71% over the same time period last year, and that consumer spending is still leaning heavily toward digital channels even as brick and mortar locations start to open back up.
All this means that digital retailers will be out in full force, driving as much traffic to their ecommerce storefronts as possible through digital advertising.
Election-Related Advertising
As if that weren't enough, Q4 of 2020 has one huge additional event that is going to drive additional demand for digital advertising, and that is the 2020 presidential election.
Prior to the onset of COVID, major prominent ad agencies and media groups were estimating upwards of $6 and $10 billion on spending for political ads during the 2020 election.
Given the trends we've seen with spending on political ads, and the huge surge we've seen in digital and mobile distribution channels for those ads, 2020 was expected to see huge spending on digital advertising.
The onset of COVID has definitely changed those projections, but potentially not in the way you might think. Many estimates still place the spend somewhere north of $6 billion. But the interesting part is that now nearly all of that spend will be digital.
With COVID having changed our behaviors, increasing our time in the digital world, that is where the advertisers will be. The virus has put a halt to previous methods of engagement like campaign rallies, door-to-door meetings, and in-person debates.
This entire election and all candidate campaigns will be run in the digital world. Which means more demand than ever for the precious advertising units you offer.
---
Read the Case Study
How cleanAD Completely Eliminated Malicious Redirects, Freeing up 60 Hours of AdOps Efforts per Week, for Venatus Media
---
How Malvertising Eats into Your Q4 Revenue
Ok, great so how does malvertising fit into the equation? Well, it's simple. With the immense revenue potential in Q4, malvertising is the single biggest risk to losing out on those dollars.
During Q4, user engagement metrics like session length and session depth are your path to revenue. Sacrificing those is equivalent to sacrificing revenue.
Here's a quick example at just how it can eat into that revenue:

Say users on your site generally look at about 4 articles (or pages) per session, each of those articles having 6 advertisements. That nets you out to about 24 ad views in a single session. Each of those ad views is revenue in your pocket (and potentially huge revenue with the increase in CPM).

Now let's say a malicious ad hijacks your user's session while they are looking at the second article and redirects them away from the site (and frustrating the heck out of them). That means, of those 24 ads the user would have seen, they now have only seen about 6. Those 18 "unseen ads" are revenue you would have gotten, but have now lost.
As an example of how user engagement can be impacted by malvertising, take PubPlus, a client of ours. Prior to implementing cleanAD, they quantified just how badly malvertising was affecting them.
"We noticed that when our clients' sites were under attack, we would see a drop of 50% of our session duration and total page views per session"

Omry Aviry, Chief Product Officer at PubPlus
They were even able to estimate just what that meant to them in revenue.
"We conservatively estimate that our monthly revenue loss was estimated at close to 3%."
Sacrificing this much (or potentially even more) of your monthly revenue when your potential earning is at its peak shouldn't just be scary to you, it should be unacceptable.
Malvertising Trends in Q4
But wait there's more.
If everything we've shared hasn't been enough to make you take a hard look at preventing malvertising in Q4, there's one more bit of information that will make it even more clear.
Malvertising activity is at its highest in Q4.
On average, we've seen a 152% increase in malvertising attacks during Q4 across all sites in the cleanAD network.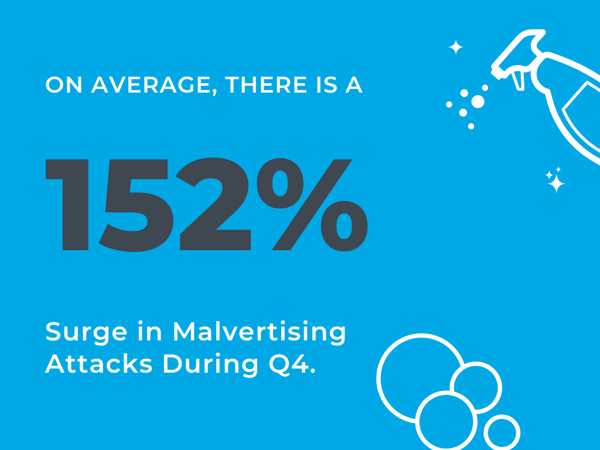 Malvertisers are an opportunistic bunch, and the more people who are ready to click on ads, the more likely they are to come out and play. And during the holiday shopping season, users are very ready to click on ads.
What's more, predicting exactly when these surges will happen becomes tricky. They aren't always consistent or limited to an exact day. You can see the trends of when the attacks happen are somewhat linked to specific shopping events (like Prime Day, Black Friday or Cyber Monday), but inconsistent as to the exact timing.
---
Read the Guide
Malvertising prevention is essential for any publisher with an expansive online presence, and shoring up your lines of defense is a worthwhile investment.
---
As you can see from the graphics below for the spikes in threat level during the holiday season for both 2018 and 2019, there are various spikes on different days and activity doesn't follow exactly the same pattern year over year.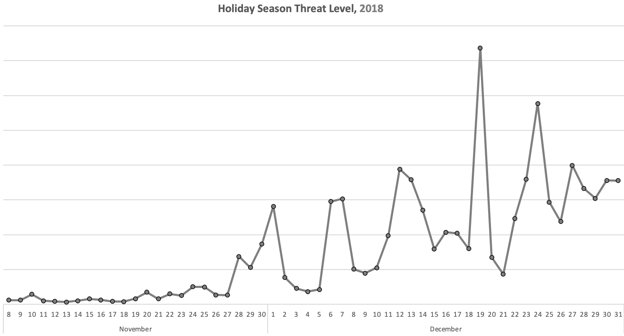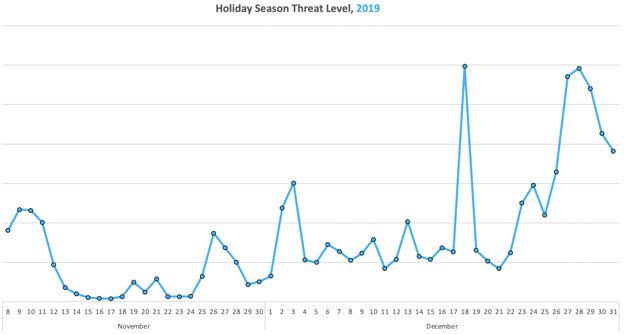 Final Thoughts
All of this really boils down to the fact that: being protected and prepared for Q4 is the best way to guarantee maximizing your share of that massive advertising pie.
Ensuring that your user experience is protected will keep those engagement metrics up, drive your available ad impressions higher, and help you reap the revenue rewards that are just out there waiting for you.
Try cleanAD free for 14-days to see why major publishers trust our platform as the simplest, smartest, and most effective anti-malvertising solution available.