How To Increase Ecommerce Revenue: 11 Strategies To Test
by Kathleen Booth, on Dec 8, 2021 12:00:00 PM
Maximizing your ecommerce revenue takes more than just having a good product. In order to stand out from the ever-growing competition in the online marketplace, you're going to need a narrowly tailored strategy to help you understand your audience, where you can find them, and what you can do to make your products pop.
Below we've listed some things you can do to better understand and segment your audience, streamline the buying experience, and boost your overall revenue.
1) Buyer Personas
Understanding your audience, how you relate to them, and how our products help them is the first step to optimizing your ecommerce revenue.
Start by conducting research to identify who your customer is, what their problems, challenges, and questions are, and what they want or need, and create a buyer persona based on your results.
What is a buyer persona?
A buyer persona is a fictional representation of your ideal buyer, based on data and insights you can cultivate by interviewing current or potential customers, reviewing your website analytics, and talking to your sales team to see what kind of leads they have been most successful with.
Your buyer personas will cover everything from age and location, to education level and career goals.
[source]
Brainstorm who it is you think you're selling to by asking yourself what kinds of problems your business is trying to solve, and for whom you are solving them. Then, back this up and expand upon it by checking your web analytics and speaking with your sales team to see what kinds of leads they're getting.
You can also track the success of established competitors by researching their demographics and messaging. Try and learn how they are attracting business, as well as what gaps their strategy has that you may be able to fill.
2) Automated Email Marketing
Automating your email campaigns not only frees up your time and allows you to focus on different areas of your business, but it also opens up huge opportunities for you to engage with your customer and increase revenue.
Set up trigger emails that fire whenever a new customer converts on your site, abandons a purchase, or has not been active on your site for some time, and offer them a discount on products they were browsing. This way they are enticed to return to your ecommerce business.
When designing your email marketing campaigns, it's important to keep your messaging consistent and have crisp, colorful images that capture your reader and compliment your brand.
Check out our article about the advantages of email marketing automation to see how it can improve your cart completion rates.
3) Shoppable Social Media Posts/Ads
Mobile ecommerce sales, or M-commerce, now make up nearly half of all ecommerce sales. Instagram allows you to take advantage of this trend by giving you the option to set up a shop through your brand's Instagram profile. You can even add a link to your full ecommerce store.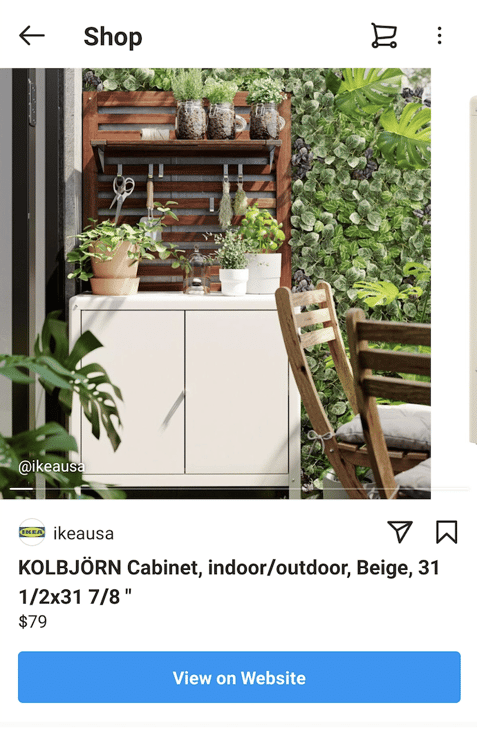 With about 1 billion active users, Instagram allows you to meet your customers where they already are, and being a naturally visual and social platform, it's an ideal place for you to market your products and build relationships.
--Article Continues Below--
--Article Continues Below--
4) CRM Platforms and Data Analysis
Using a customer relationship management platform can open a new world of customer targeting for your business. Collecting data and properly analyzing it can be tricky, but retargeting users with items they abandoned or ones similar to them is one of the most basic features of most CRM platforms.
Set up recurring emails to customers with abandoned carts. First remind them of the item they recently abandoned, and then offer them a discount or similar promotion to re-ignite their interest and bring them back to make a purchase.
Along with this, you can help you track what kind of messaging is driving sales, what marketing channels are most successful, who is buying what products, as well as why and when.
This is invaluable information you can leverage to help you decide where you should target customers, what kind of language and imagery you should use, and when customers are most active online.
And while this kind of multi-layered targeting works to gently nudge customers to your site, it can be a slow process. Bombarding users with promotions and deals can frustrate them and tarnish their perception of you.
Having patience and respect for your customer will help you build a more trustworthy relationship, increasing your chances of winning their business in the future.
5) Build Customer Loyalty
Building a loyal customer base is a necessary piece of growing and maintaining your business
Customers notice and appreciate when brands remember them and their interests and are 60% more likely to convert when targeted correctly, so try to personalize your message as much as possible.
Another important piece of relationship building is having customer-friendly policies and outstanding customer service. This means having hassle-free return policies, free shipping when possible, and chatbots and/or readily available customer service agents.
Transparency will also go a long way in developing the relationship between you and your customer. Last-minute fees, cryptic product descriptions, and hard-to-reach customer service agents will only frustrate your users and turn them away from your brand, even if you manage to get a first-time conversion.
6) Discounts and Promotions
Discounts and promotions are powerful ways to bring in new and old customers alike, but a poorly designed discount strategy can end up hurting your brand.
To start, some of the best ways to offer discounts are through your CRM and automated email campaigns. Designing triggers centered around certain customer behaviors can help bring back customers who abandoned their cart or have not been active on your site in some time.
Free shipping is perhaps the most familiar and effective way of attracting customers and is the backbone of the Amazon ecommerce empire. A great way to take advantage of this is to offer free shipping to customers who reach a certain cart value.
That way you can boost your sales to make up for your shipping costs, while also using the tactic to drive sales.
Pop-ups on your landing page offering discounts in exchange for information can also be a great way to capture customer information for retargeting in exchange for deals on your products.
But be wary, too many pop-ups and too many discounts can tarnish your brand reputation and attract bargain shoppers that may not make repeat purchases.
Another risk of discounting is that your coupon or discount codes may be scraped and shared over discounting site and browser extensions, handing out discounts to customers who did not earn them and driving down your average order value.
7) Paid Traffic
Pay-per-click (PPC) advertising is one of the most straightforward ways of advertising your ecommerce business, though it can be more expensive than some of the previous options we've outlined.
Just as it sounds, with PPC you pay for every click that your ads get on a given platform. If it's through Google, your site will start appearing at the top of search engine results pages or on related YouTube videos, among a very long list of other websites in the Google Display Network. With social media platforms like Facebook and Instagram, your ad will appear in front of customers through their news feed or in their stories.
Get to know Google Ads and Facebook Blueprint to familiarize yourself with these platforms, and learn how to get your products in front of the right audience.
8) Simplify your Checkout Process
Checkout is the last, and most volatile step in your sales funnel. With 70% of customers abandoning their carts before checkout, delivering a seamless checkout experience will mean the difference between making a sale and having to spend time and resources retargeting customers.
The first thing you want to avoid is requiring customers to create an account in order to make a purchase. It may be an effective way to capture information, but it is also a sure-fire way to push on-the-fence customers away.
Instead have customers enter their email address in order to send them a confirmation email, and offer them the choice to sign up for news and alerts.
This way you have the opportunity to capture information, without the risk of losing the sale.
Also, make sure you're upfront about costs with your customers. Include taxes and shipping costs before requesting payment information. This way they'll know exactly what they are paying for, and won't be caught off guard or turned away by stacked up hidden fees at the end of their checkout journey.
9) Create a Quality Website
Site speed and user experience can make or break an online business. Not only does it affect the impression you leave on your customers, it directly impacts your SEO rankings as well.
Google now incorporates site speed into its search engine algorithm and will penalize your site if it does meet their standards.
In this Google WebMaster video, they claim that "two seconds is the threshold for ecommerce website acceptability. At Google, we aim for under a half-second."
Having straightforward navigation is the next step. Make sure your customers can actually find your products, and that each step in your navigation goes from page to page in logical order. The moment a customer becomes confused, lost, or frustrated, they are more likely to abandon their site.
On your product pages, it's important to have clean, detailed, and crisp images of the products you're selling, with in-depth descriptions that are at once quick, easy, and informative to read.
You should also include a space for customer feedback on the product pages. Customers trust reviews as much as they trust their friends, and this will not only help you build relationships with your customers, but will give you helpful feedback you can grow your business with.
10) Be Prepared For Mobile Sales and Integration
Nearly 40% of all ecommerce transactions occur over mobile devices, up nearly 25% in the past five years. And the trend toward mobile commerce is not likely to slow down.
Making sure you have a mobile-ready website and are able to reach customers over mobile apps and advertising while providing for a seamless cross-platform experience, will not only help you reach customers today but set your business up for success in the future.
11) Increase Average Order Value and Lifetime Value
Since the release of iOS 14.5 and the increasing movement away from third-party tracking in favor of customer privacy, advertising campaigns have become more expensive and less effective.
Ivesting in a first-party tracking method can help you prepare for the inevitable death of third-party tracking, but it would also be wise to fight against rising advertising costs on the other side of aisle as well.
Once you have the customer, using the tools and techniques above to help build relationships with customers and increase their order values and lifetime value will help balance your costs.
--Article Continues Below--
--Article Continues Below--
Wrapping Up
A promising product is not enough to optimize your revenue. In order to maximize your profits, you will need a foundation of strategies and techniques to support your business and reach your customers.
Above we have listed a number of ways to help you accomplish this, but making them your own is the next step.
Take a hard look at your metrics, see where your customers are coming from, learn who they are and where your pain points are, and soon you'll have a streamlined sales and marketing funnel boosting your sales and revenue.