How Coupon Extensions Cause Affiliate Attribution Fraud
by Kathleen Booth, on Oct 7, 2021 9:30:00 AM
As Honey and similar coupon extensions continue to devour the affiliate marketing ecosystem, their improper distribution of your discounts and coupon codes is not the only way they harm ecommerce businesses.
Affiliate marketing scams, cookie stuffing, and false attribution are all risks that online retailers confront when engaging in affiliate marketing, and now coupon extensions have compounded the issue by falsely claiming attribution for sales they didn't drive through legitimate affiliate marketing platforms
To help understand just how they are able to do this, we're going to break things down step by step.
What is Affiliate Marketing?
Affiliate marketing is when a business pays other websites, retailers, or influencers to promote its products and services to bring new customers and revenue to its website. The affiliate is paid a commission based on the sales they drove to the site.
How is Affiliate Attribution Determined?
There are many ways to manage affiliate commissions, but most online retailers partner with affiliate marketing platforms like ShareASale or Impact.
These platforms use last click attribution model to determine whether an affiliate has earned credit for a particular sale.
This means the platform tracks the last channel (examples include online ads, email marketing, organic search, etc.) a shopper interacted with before arriving on the business's website and making a purchase.
That final point of contact is then credited with driving the sale and earns 100% of the commission.
How do Affiliate Platforms Identify Last Click?
The way most affiliate platforms are able to track where shoppers are coming from is with cookies injected into the shopper's browser after they have interacted with an ad or clicked a link shared by an affiliate.
Cookies are small bits of code that act like bread crumbs as you browse online, leaving a trail of where a user has been. They are perfectly legitimate tools of online advertising, but are also commonly abused through a tactic called Cookie Stuffing.
Under normal circumstances, when you click on an ad and are brought to a retailer's site, the only cookie dropped in your browser is one informing the next site where you have come from. The cookie will then expire once the browser session ends.
With Cookie Stuffing, discount publishers and affiliates drop several cookies for different brands, all with no expiration dates.
This means as you continue to shop online, they can falsely claim attribution by overriding more recently collected cookies for brands you were not originally being referred to.
The result is false attribution, and it means retailers are paying commissions to affiliates that did not legitimately earn them.
Cookie stuffing can come from several different sources including ads, pop-ups, toolbars, and browser extensions.
Another common culprit are discount sites that offer a long list of coupons (many of which are not legitimate or don't work) to shoppers looking for deals after putting items in their shopping cart.
When a shopper visits the site, clicks on one of the coupons, and then is redirected back to their shopping cart, a cookie is dropped and the coupon site takes credit for the sale regardless if a coupon was successfully applied or not.
While many retailers loved the high volume of business driven by coupon sites, over time they began to notice that "referred" customers had already decided to make a purchase before looking for extra savings.
Because of this, many affiliate programs lowered commission rates for coupon sites or even blocked them entirely.
-- Article Continues Below --
-- Article Continues Below --
How Coupon Extensions Have Adopted This Technique
Even though discount sites have become less popular in the face of growing competition from browser extensions like Honey and CapitalOne Shopping, problems with false attribution and cookie stuffing have simply moved from one platform to another.
And the problem is growing due to the ease of use offered by coupon extensions.
.

Tactics used by coupon browser extensions differ slightly from those used in the past by coupon and deal sites. In the case of Honey, when a user reaches checkout, the browser extension pops up and asks if they would like to apply coupons.
As it does this, it drops a cookie that marks the session as "driven by Honey", regardless of whether a coupon is successfully applied, and regardless of which marketing channel the user actually came in on.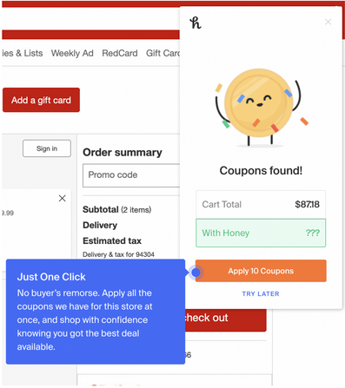 [source]
This cookie then remains in the shopper's browser and is set to expire years after the purchase is made, allowing them to claim any further purchases as well.
This means a customer can come to your site through a Facebook ad, email campaign, Google search, or another marketing channel, browse around and put items in their cart with the full intention of purchasing them at full price, then click to allow Honey to test codes — and even if Honey is unsuccessful in applying a discount, it will still claim full credit for the sale.
And when it happens, it means your marketing attribution data isn't reliable, and you may be overpaying the wrong affiliates for your sales. At a higher level, it also means that the strategic decisions you're making about where to invest your future marketing dollars will be based on faulty information.
The implications of this for online retailers are grim, especially at a time when the ecommerce world is dealing with challenges including supply chain bottlenecks, and rising customer acquisition costs due to declining Facebook ad results.
Protecting Your Revenue
Honey and CapitalOne Shopping often position themselves as user-generated databases born out of a consensual sharing of codes and promotions.
But in reality, they improperly scrape and share your discount codes across the internet while also charging you commission for sales they did not drive.
In both instances, you are needlessly losing revenue on sales and throwing a wrench in your attribution, potentially leading you to spend money in the wrong places as you invest in channels being boosted by improper automatic injection and false attribution.
If you believe your business is being impacted, there are a couple of tell-tale signs to look out for, although the problem is notoriously difficult to catch and stomp out on your own.
Depending on the technique of the scammer, you will want to keep an eye out for unusually high affiliate claims, and to see if apps like Honey and CapitalOne Shopping are claiming attribution at a time when you are not offering discounts.
But if you want to put an end to false attribution and automatic injection permanently, the simplest solution is to use defensive software like cleanCART, which offers retailers complete protection from automatic injection, while also protecting your affiliate marketing spend from false attribution.
If you are interested in learning more about cleanCART, you can sign up for a free 14-day trial here.