10 Important Ecommerce Marketing KPIs to Track
by Kathleen Booth, on Dec 3, 2020 9:00:00 AM
There's a famous saying that "what isn't measured, can't be managed."
For ecommerce merchants, key performance indicators (KPIs) are vitally important to fully understand the state of your business, and the success of the tactics you choose to implement.
No business model is complete without collecting, analyzing, interpreting and acting on the right data points. For ecommerce marketers, those data points will inform exactly how you develop and execute your marketing strategy.
At the end of the day, the revenue of an ecommerce store depends on very platform-specific messaging and moves. Luckily, unlike other types of businesses, every interaction customers have with your business occurs in the digital realm and therefore is quantifiable and trackable. That makes it very easy to truly monitor KPIs in a way most other industries cannot.
In general, KPIs should be clearly defined and measured on a consistent basis to be useful.
These are the key metrics every ecommerce business should be keeping a watchful eye on:
(source)
Let's jump in and demystify the KPI alphabet soup!
-- Article Continues Below --

Read Now: The Complete Ecommerce Resource Center
1. Customer Acquisition Cost
Customer Acquisition Cost (CAC) is a critical KPI for ecommerce platforms. This is because every strategic move should be made with a full understanding of how much acquiring each customer truly costs.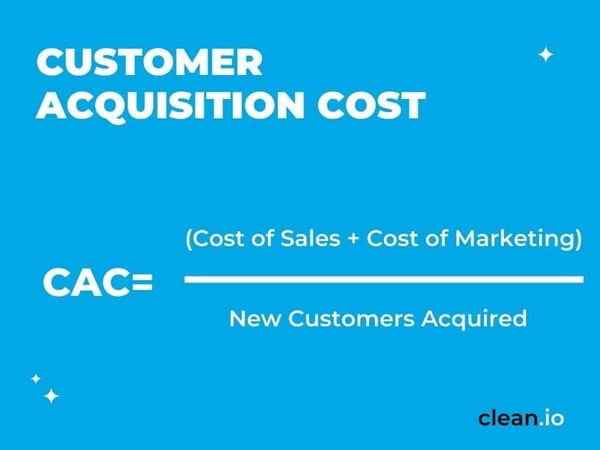 Knowing exactly how much it costs, on average, to acquire a customer can help you make decisions on which tactics are pushing the needle in the right or wrong direction. Increasing the activities that yield customers at a lower cost, and decreasing those that don't, will keep the cash flow moving in the right direction and help you build a scalable business.
This information can not only help justify your marketing spend—it also can help you determine whether that marketing is effective enough.
Depending on the average cost per transaction or cost per item, your ecommerce business may be able to afford a higher CAC. Regardless of the other KPIs you track, knowing CAC is a vital first step.
2. Customer Lifetime Value
Customer Lifetime Value (CLV) is how much a customer is worth, in total, to your brand.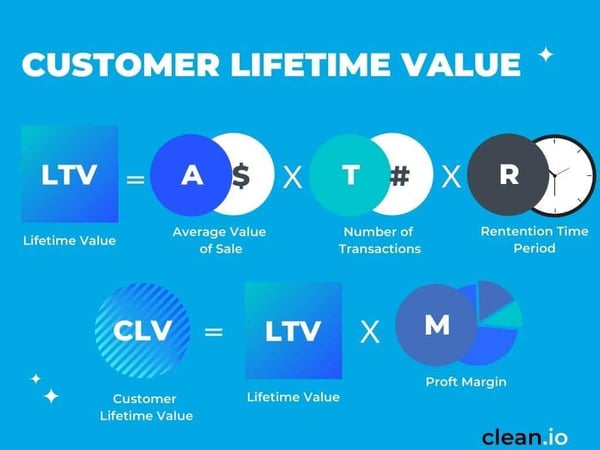 It's not possible to accurately measure CLV without knowing your full customer lifecycle.
This is a very simple concept. Does your customer buy from you once, twice, three times? What is the ultimate value a customer can bring to your bottom line?
---
Read The Ultimate Guide to Ecommerce Marketing
Discover a solution built to help you block the negative effect coupon extensions have on your bottom line.
---
Knowing the answers to these questions, and how a typical customer interacts with you, will help you come up with the right number.
3. Conversion Rate
Your purchase conversion rate is one of the most important ecommerce KPIs to measure, but keep in mind that it is a moving target.
Conversion rate is the percentage of website visitors that ultimately buy a product from your site.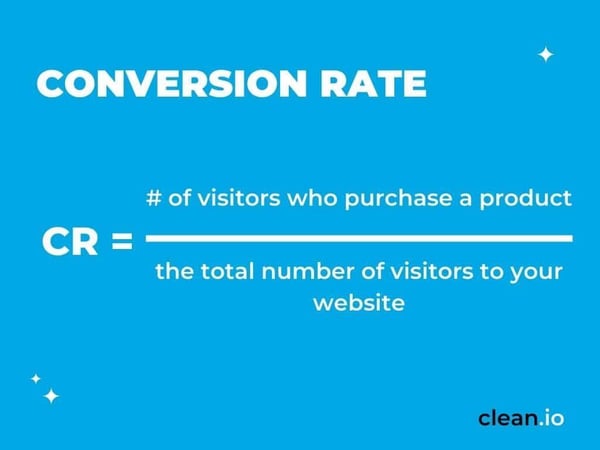 Consider this: for every click funnel or ad strategy you pay for, what is the return on that investment (ROI) or return on ad spend (ROAS)? You only actually know that number if you've effectively defined and measured a conversion rate once visitors have come to your site.
Small change to your conversion rate can usually yield huge increases in revenue, which is why conversion rate is usually regarded as the king of all ecommerce marketing KPIs.
You should be measuring conversion rate individually for each campaign or traffic source so you can compare and invest more in the areas with higher rates.
4. Customer Retention Rate
Customer retention rates should be calculated based on a defined time period. So, if you start with 500 customers, how many do you have six months later?
Your customer lifecycle or customer lifetime may help you define the right timeline for this KPI.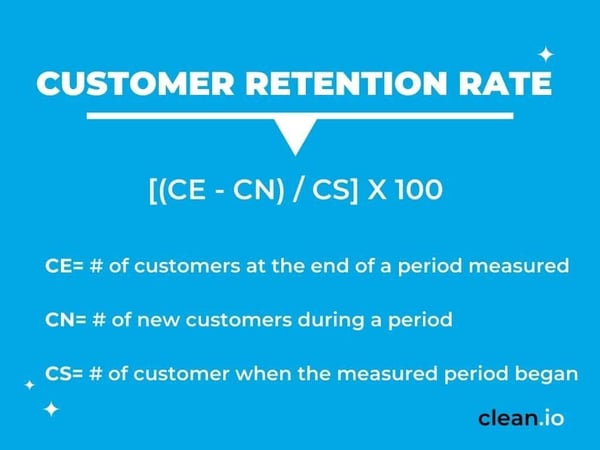 Knowing how many customers you keep is almost as important as knowing how many customers you get. After all, customers you already have (who buy from you more than once) cost nothing to acquire.
This particular metric is the best for measuring the quality of your relationship with the customer. Any tactics you can execute that improve your customer retention rate tend to make huge differences in your bottom line.
5. Customer Satisfaction
With the prevalence of automated surveys, pulse surveys and pop-up surveys, it's never been easier to know how customers feel about your brand, business or products.
Some ecommerce brands are hesitant to open the floodgates for reviews, but the reality is that you won't sell as much without them.
Social proof goes a long way, and if you can get ahead of negativity, you can do more to appease naysayers than if you are blindsided by keyboard warriors.
Know how satisfied your customers are. If they aren't, know why and make a plan to address that issue.
Measuring customer satisfaction is a great leading indicator for your customer retention rate. It can give you early warning signs of problems that will drive that number down.
6. Gross Profit Margin/Net Profit
Ecommerce gross margin equals revenue minus the cost of goods sold (COGS).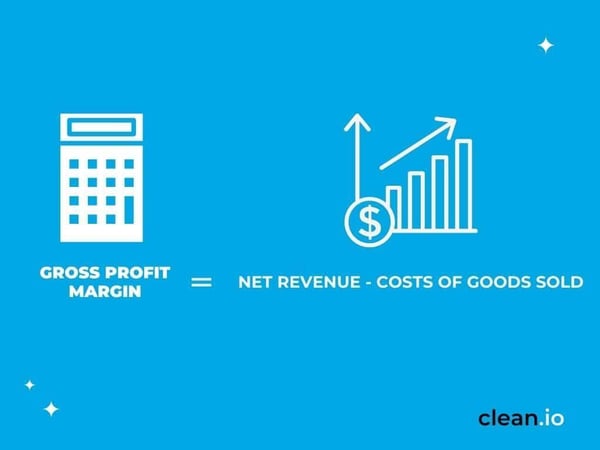 Your COGS is the cost of doing business (basically all your expenses). Once you take out overhead, you should always know exactly how much money you are walking away with.
You can take this particular KPI one step further and divide your gross profit over a given time period by the number of products sold over the same period. This will give you a per product profit number. Finding ways to increase your profit per product sold can also go a long way in improving your bottom line.
7. Organic Search Rankings
For most ecommerce companies, the most valuable asset you have is your website, and how your website shows up in search absolutely affects your bottom line.
Organic search is driven by search engine optimization (SEO), and the search terms that drive net new visits to your site.
(source)
Quality SEO will cause Google and other search engines to rank your site higher on the search engine results pages. Since few prospective customers will venture past page one, how you compete in terms of SEO is vitally important. Know the stats and work hard to constantly improve and optimize your site.
8. Time on Site/Bounce Rate
Customers who spend more time on your website are more likely to make a purchase. An inviting atmosphere is just as important on a website as it is in a boutique, but it is far harder to control.
The time a user spends on your site, and your bounce rate (the number of users who land on your site and then immediately leave), are very important KPIs.
Increased time on site usually means deeper engagement and research into your products. Reduced bounce rates indicate that you've hooked the visitor and encouraged them to look beyond the first page.
9. Average Order Value
Value and worth are predictably recurring themes in ecommerce KPIs. Knowing how much an average order is valued at will affect most other KPIs that you track.
How much someone spends impacts how much you can spend on them. In other words, that final transaction will tell you the right amount of money to spend everywhere else.
10. Shopping Cart Abandonment Rate
Just as it can be hard to incentivize people to stay on your site and browse, it can also be hard to get them to check out.
---
Protect Your Ecommerce Margins
Increase average order value by blocking discount codes from coupon extensions like Honey, CapitalOne Shopping, Piggy, and more.
---
Some ecommerce platforms have up to a 75% shopping cart abandonment rate. This is a painful loss of revenue, given that the visitor was right at the finish line but chose not to cross it.
(source)
High abandonment rates are the result of a bad checkout experience, disruptions and occasionally even coupon extensions that alert users to deals on other sites.
High or climbing shopping cart abandonment rates should be taken very seriously and addressed immediately.
The Bottom Line
Every ecommerce KPI comes down to revenue in some form or another.
Revenue, and margins, are the lifeblood of any ecommerce business. Keeping that bottom line healthy is the ultimate goal of measuring any KPIs in the first place.
Evaluating and finding drains on your margins is your best bet for keeping your business healthy.