How to Stop Coupon Abuse on Your Website | clean.io
by Andrew Reed, on Mar 29, 2022 9:00:00 AM
Driving attention to your online store with discounts and digital coupon codes is a tried and true strategy that remains an effective way to help boost sales. In fact, more than 90% of online consumers say they search for and use coupon codes while shopping online.
But without the proper precautions, your strategy may end up taking unnecessary bites out of your revenue and brand reputation.
Offering users too many discounts can set customer expectations and leave you in a dangerous cycle of needing to cut prices in order to keep them coming back. And coupon code scraping browsers extensions and popular discounting sites can leak your discounts beyond your target audience, overextending a discounting campaign while also thrashing your attribution reporting.
Not only this, but partnering with unreliable affiliates can leave you open to affiliate fraud and similar false affiliate fees.
Below we will cover all the ways an unchecked discount code strategy can end up hurting your business through coupon abuse, and what steps you can take to build a strategy that works for your business instead of against it.
4 Common Ways Discounting Can Hurt Your Business.
1) Damaged Reputation and Cost To Acquire
One of the most significant impacts discounting can have on your business is lowering the perceived value of your brand to your customers, and concurrently increasing your cost to acquire customers.
As an online retailer, offering a promo to help boost sales every now and then can help grab the attention of a new customer, or nudge an interested one into making a conversion, but extreme couponing, or discounting too often, can lead potential customers to group your brand in with poor quality.
Not only this, but you find yourself stuck in a loop of having to discount products in order to retarget customers and maintain site traffic and conversion rates, increasing your cost per acquisition with long-term potential risks.
For example, let's say you are running a promotional campaign with an affiliate that distributes 20% discount codes to the desired target audience. As affiliate marketing goes, you end up paying a percentage to the affiliate to get access to their audience, while also reducing prices by 20% to promote your products.
2) Cost to Acquire Increases
If you have managed to set the expectation that customers can wait out purchases for discounted prices, or that your products are not worth purchasing at full price, you're going to have to spend significantly more on bringing customers back to make future purchases.
In this case, a better approach would be to cut out the middleman and reduce your prices by 10%, creating a far more effective revenue route for your conversions because you no longer have to pay the affiliate and provide the discount at the same time.
-- Article Continues Below --
-- Article Continues Below --
3) Leaked Coupon Codes
Another threat your discount strategy might pose to your revenue is codes leaking onto discounting sites, or being picked up by coupon extensions like Honey and CapitalOne Shopping, leading to improper redemption and coupon fraud.
This can happen in a number of ways.
First off, bargain hunters may be adding your codes to community-driven discounting sites, which increases the visibility of your promotion. This can be a helpful way to increase the traffic garnered from your campaign, but also puts you at risk of over-extending your campaign and hurting your revenue in the long run.
Bargain hunting customers coming from discounting sites are less likely to make repeat purchases, in fact 94.83% of customers who purchase via promotions are single interactions. (CM Commerce)
You will likely have to discount products again in order to re-engage them.
Secondly, discounting browser extensions like Honey and Capital One Shopping are capable of scraping and sharing any discount codes previously entered at checkout.
Roughly 30% of online shoppers use coupon extensions, with Honey & Capital One Shopping each adding an average of 1M new users per month. By 2022, coupon extension usage is expected to reach 110 Million users.
This means if you are running campaigns that reward customers for signing up for customer loyalty programs, newsletters, participating in surveys, or following your social media, those earned codes are now at risk of being shared across the millions of shoppers with discounting extensions installed.
It may seem reasonable to think that this will only help expand your visibility and drive conversions, but in reality, coupon extensions do very little to help drive sales.
Coupons typically are handed out at the point of discovery, helping to lure in new customers or push interested ones into converting. With coupon extensions, customers that have already made it through your sales funnel are handed out discounts (often not meant for them) at the moment of conversion - right as they are entering payment information.
In both cases, you are needlessly handing out discounts to either already interested customers, or bargain hunters that will be costly and difficult to re-engage.
Manually tracking down leaked coupon codes can help manage this problem, but partnering with a product that automatically protects your site will allow you to spend that time working on bigger picture issues.
4) Affiliate Fraud
Another way your codes end up on one of these sites can be through unscrupulous affiliates and affiliate fraud.
If you are sharing discount codes through an affiliate, it is possible they have handed off these codes intentionally in order to help boost their commissions. It can be difficult to catch fraudsters doing this, so make your coupon policy clear in your initial contract, outlining how affiliates are allowed to distribute codes and the harsh penalties if their promo is discovered on a discounting site.
Coupon extensions also end up charging you affiliate commissions, even though you haven't given them explicit permission to share your discount codes with customers.
Not only this, but when their extension executes on your site, they will often claim credit for the sale through last-click attribution, whether or not the extension successfully applies a coupon.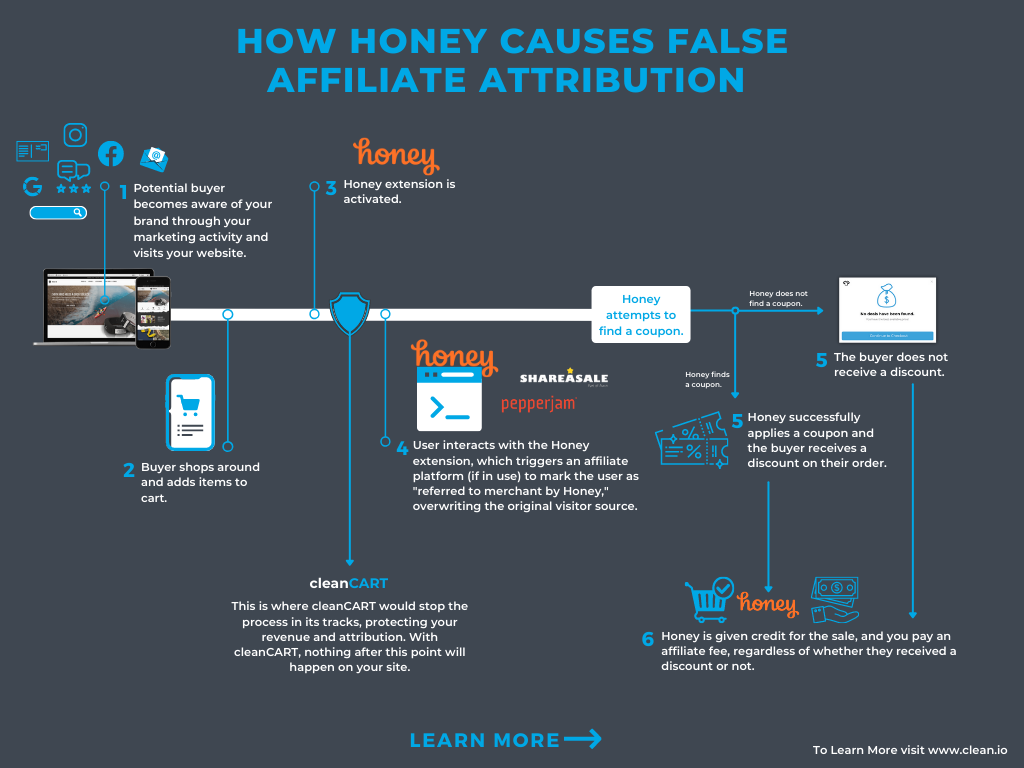 This means not only are you needlessly handing out discounts at checkout, but also being charged affiliate fees by coupon scraping groups, without knowing if they actually helped drive the sale.
If you end up joining one of these groups' partner programs, make sure you compare their affiliate commission against your other affiliates. If you find that they are significantly higher, it could be possible they are misrepresenting their performance by falsely claiming sales through last-click attribution.
Poor Attribution Reporting
Finally, each of the above cases will wreak havoc on your attribution reporting, leaving behind a confusing and unreliable web of tracking metrics you'll have to dig through to discover what campaigns and affiliates are actually driving traffic to your site.
Customers entering unearned coupons, meant for those who have performed specific actions (signed up for newsletters, joined reward programs, followed social accounts), and affiliates overcharging and improperly sharing codes can make it appear these campaigns have been more successful than they actually have been.
This can lead you down a dangerous path of investing in what appear to be successful channels, but in reality are bleeding you with affiliate fees, acquisition costs, over discounted products, and wasted time and energy.
-- Article Continues Below --
-- Article Continues Below --
Protect Your Business with cleanCART
Tightening up your coupon strategy, tracking down leaked coupon codes, eliminating expired coupons, and partnering with reliable affiliate marketers to prevent fraud will help mitigate the problem, but you will always be playing catch up instead of truly preventing the problem.
Partnering with a preventative solution like cleanCART will put an end to automatic injection on your site, prevent false affiliate fees from coupon extensions, and help you take back control over your discount strategy,
cleanCART will also provide you with helpful attribution metrics, a unique dashboard to track your campaign performance, and a motivated team eager to save you money and win back control over your marketing campaigns.
If you are interested to see how cleanCART can help improve your margins and cart completion rates, you can sign up for a free trial here or check out our Shopify and BigCommerce App Listings.