Building An Ad Ops Team For a Business Your Size
by Andrew Reed, on Apr 1, 2021 10:11:29 AM
Ad Ops is a fast evolving industry, and you're going to need the right team structure for your business in order to effectively manage your clients' ad campaigns.
Beyond knowing how to hire the right people, it's also important to know when to bring on new team members, and what new roles to add as you grow.
Here's a quick guide to help you learn when to expand your Ad Ops team.
First Off, What is Ad Operations?
An Ad Operations team makes up all of the necessary pieces of successfully managing a client's digital advertising campaign from start to finish. This includes:
Setting up a campaign
Making sure the campaign is targeting properly
Getting the campaign launched appropriately
Managing the campaign as it runs
Optimizing the campaign to make sure it's hitting client goals
Looking for opportunities to exceed client goals if possible
Ensuring there is adequate supply to completely deliver the campaign
Fix any issues with the campaign as it runs
Stopping fake ads from interfering with campaigns


Depending upon the size of your organization, you may find you can combine roles, but all of the functions in this graphic are typically represented.
Getting Started: Building a Small Ad Ops Team
Whether you're just starting off and have decided to build an in-house Ad Ops team, or you work at an established business with a large number of clients, you are going to want to trim the fat and keep things as nimble as possible.
We'll start by looking at what a bare bones Ad Operations team looks like. This is the minimum structure necessary to build a solid foundation for a publishing business to expand upon.
Ideally, your amount of clients at this point will allow just 2 to 3 people to manage their operations and sales, so you will have something looking a little like this:
Ad Ops Manager: An Ad operations team leader oversees the four teams listed in the graphic above.

Ad Ops Managers need to have a solid understanding of the AdTech their team is responsible for, but more importantly, they need to have incredible management skills to ensure their team isn't burning out on too many clients, and that everyone's voice is heard.

In the beginning, the person that fills the Ad Ops Manager role will need to be a Swiss Army knife capable of managing others, overseeing the tech stack, and maintaining relationships with each client. As the team grows, this role will evolve into more of a management position, with less day-to-day execution required.


Trafficking: This is generally an entry level position that can be filled by someone right out of college. The traffic team member sets up and launches the campaign strategy put together by the Ad Ops analyst. It's their job to ensure the campaign actually goes live and is displaying ads appropriately.

After the campaign is set, live, and confirmed to be working properly, it will then be handed back over to the Ad Ops Manager to maintain and manage.

This traffic team member won't be assigned to a portfolio of clients, rather he/she will be handed campaign launch assignments as capacity allows. In a smaller operation, it will also be the traffic team member's job to make sure there are appropriate ad units available to be able to execute client campaigns.

The traffic team member will also collaborate with the Ad Ops Manager to fix technical issues that may pop up. Some of the most common issues they deal with are troubles with a measurement vendor or issues with fake ads getting through.
Starting to Grow
If you begin to take on more clients, consider adding these next two roles to your team to spread out your workload and responsibilities
Analyst: This position may require someone with a little more experience in the Ad Ops field. It is the analyst's job to know the ins and outs of each campaign they manage in their client portfolio.

They will become the brains behind the day to day management of these campaigns, and it is their job to stay on top of which campaigns are pacing behind expectations or low on funds, which new campaigns they need to launch, and where are fires that need to be addressed immediately.

The Ad Ops analyst team will have to work closely with the trafficking team in order to successfully execute campaigns. On the other side, Ad Ops analysts work closely with the account management team to make sure client goals are being met and clients are happy.

Essentially, Ad Ops analysts are the hub of digital advertising campaign execution.

Account Manager: An account manager is responsible for the day-to-day management of client portfolios and managing expectations with the practical execution of their campaigns. They may work with other Ad Ops team members to ensure the delivery of all aspects of the customer's needs—which may mean dealing with issues outside of campaign management.

Not every Ad Ops team may have an account manager right off the bat, and it is also possible to split this role between your traffic manager and your analyst if adding another full time position isn't in your budget. But if you have the resources, it may be well worth taking some responsibilities off your (likely overloaded) small Ad Ops team.
These roles make up the bare minimum of an effective Ad Ops team that you can expand upon as your business grows.
Knowing when to add members, and in what roles/teams, comes down to keeping a keen eye on your KPIs and measuring each team member's workload.
If you would like to read about how our cleanAD software helped the tightly run Ad Ops team at Curiousty Media stop mobile redirect issues, check out the case study here.
-- Article Continues Below --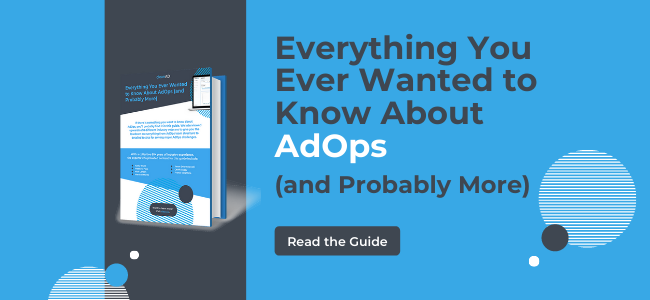 -- Article Continues Below --
Knowing When to Expand
When running an operation this size, where a small handful of people are doing a variety of work, it's important to put up some checkpoints to prevent burnout and make sure every client is getting the attention they need.
Send out regular surveys across all team members to discover how much time they are spending with each client a week. Also have managers fill out how they think time is being spent between clients and see how they match up.
It's important to keep in mind that the size of each client may not directly relate to the time and attention they may need to effectively run their ad campaigns. Some clients may just be more needy, regardless of what they are paying upfront, which should be something you consider when taking on new accounts.
If it's clear that certain team members are struggling with their goals, try and split up some of that work across all of your teams. In low budget, tightly run operations, you are going to have to be willing to stretch yourself across positions in order to effectively complete client goals.
But, if you continue to feel stretched thin and your budget allows it, it may be time to bring on some new team members to either bulk up your existing teams, or build entirely new ones to split up some of the responsibilities.
As another resource on this, you can also check Ad Ops expert Kathy Knott's article on Managing a High Performing Ad Ops Team.
-- Article Continues Below --
Read the Venatus Case Study
Learn how cleanAD completely eliminated malicious redirects, freeing up 60 hours of Ad Ops efforts per week, for Venatus Media.
-- Article Continues Below --
Preparing for Growth
If your business is growing, depending on the balance of your team's workload, the next step will generally be to bring on either a new traffic manager, a new analyst, or an account manager (if you haven't added one already).
As the business grows, there might come a time when it's necessary to divide teams up by region and timezone.
Growing the breadth of your operations may also help improve the smoothness of your day to day operations. Once you have a solid team of one to two traffickers, analysts, and an account manager or two, consider bringing in someone to focus solely on finding supply and selling inventory.
This should not only free up much of your team's time to focus on campaign management, but will increase your sales opportunities. At this point, you might want to bring on a creative team to create ads for clients in-house in order to meet this increased demand.
In any case, the more data you have, the better, and by tracking the metrics mentioned above you'll be able to see where some of your bottlenecks are and where to focus your efforts.
Some Other Examples
We asked Ad Ops team leaders to share how their teams are structured, and how large their organizations are.
Here are some of the responses we got for smaller Ad Ops teams:
My former company, a smaller agency, went like this:

Director l Manager l Senior Specialist l Specialist
My old organization went as follows:

VP | Managing Director | Director | Senior Manager | Manager | Sr. Specialist | Specialist/Coordinator

This was for a large broadcast news corporation and the team had fewer than 10 people on it
This is ours:

CEO > VP Consumer Markets > Director Ad Ops > Ad Ops Manager > Ad Ops Coordinator.

We're all programmatic, so our entire Ad Ops team is 3 headcount.
Here is an example of a much larger operation:
My former company had this structure:

Director | Team Lead | Geo Lead | Senior Account Manager | Account Manager | Senior Publisher Operations Specialist | Publisher Operations Specialist

Needless to say this was a big team with 300+ people handling multiple regions and this is only for the ad ops team. We divided on bases of the region they were serving: US, LATAM, EMEA, APAC, etc. Each of these teams had at least 8-10 people depending on the number of clients they served.

The US team alone had over 100 people. Each of these regions had Geo Leads. These leads reported to the team lead and then all the team leads reported to the director.

The Operations team had a team lead, the Dev team had a team lead, the creative team had the team lead, the yield team had one, and all of them reported to the director. Collectively, all the teams together were known as the client services team.

The US team was divided into US East and US West teams because of the size and the different timezones.
Here's how one forward thinking Ad Ops team leader is building our what is currently a small team with future growth in mind:
My team is broken out into 3 teams like this :

Ad ops - Campaign management with management track

Technical Ad Ops - Managing escalations and technical troubleshooting > with Management track

Programmatic - Yield Management | Partner Management | reporting

Titles within each team broke down like this:

Ad ops Coordinator > Ad Ops Specialist > Senior Ad Ops Specialist > Ad Ops Lead

Technical Ad Ops Specialist (Senior Ad Ops can grow into this if they want) > Technical Ad Ops Lead (Ad Ops Manager can grow into this if they want)

Programmatic Analyst > Programmatic Advertising Manager > Programmatic Lead ( management)

The Lead roles in our org are people / team managers - Director level oversees the various functions across the team (direct & programmatic / yield)

The current team is actually quite small (2 on the Ad Ops side and 2 on the programmatic side) but we built out the structure and skills matrices to be future proofed based on the needs of the business as it continues to grow.

Each job title has specific requirements/skills and competencies that have been outlined - that way we can not only speed up the process when we open up a new role but provide transparency in the skills that they need to develop to advance.

So for example, an Ad Ops Coordinator that wants to become a Technical Ad Ops Specialist can plot out a concrete plan around how they can move into a role like that over time.
Summing Up
Whether you're programmatic or direct sales, a large organization or a small one, getting to know what team structure you need to excecute effective campaigns is key, and it may look different company to company
Get to know your clients and workload, find where your bottlenecks are, and focus on relieving them by splitting up responsibilities or hiring a new team member.