10 Best Ecommerce Marketing Strategies
by Kathleen Booth, on Apr 6, 2021 9:00:00 AM
Setting your ecommerce business apart from competitors online is critical, but can be tricky given the proliferation of copycat products and the ease with which new competitors can quickly stand up legitimate looking websites and get their brands in front of buyers via online advertising.
Setting up a strong online presence through a focused marketing strategy is key to standing out amongst the competition and bringing awareness to your brand.
Here are some helpful ways to reach customers and build an audience for your ecommerce business.
Content Marketing
Content marketing is one of the most effective and affordable marketing tactics.
By creating useful and relevant content for your customers, you will not only sell more product, you'll position your brand as a trusted resource that will naturally attract your ideal buyer and help you build an audience..
Your expertise and helpfulness will help earn buyers' trust, making them more likely to purchase from you when the time comes.
Here are some the most effective ways you can use content marketing to reach your customers:
Blogging: maintaining a regular blog is one of more effective ways to drive organic traffic to your online store. Research your customers' interests, pain points, questions and challenges, and create content aimed at helping them.
Vlogging/Video Tutorials: Vlogs are similar to blogs, but more visually engaging. Thanks to smartphones and video editing apps, it's easier than ever to put together vlogs and video tutorials featuring your products..
Podcasts: Interview-style podcasts are a great way to bring in guest speakers, influencers, and other experts on your industry, build relationships with them, and talk about not only current issues, but future trends and innovations. Host your own podcast, or, hire a podcast booking agent to help get members of your team on other podcasts. Either way, this is an effective channel for increasing brand awareness.
Social Media: Posting content to social media channels is one the most engaging ways to reach your customers, but it's important not to stretch yourself too thinly. Find out where your ideal buyers spend their time, and then focus on one or two channels that bring back the most traffic. Experiment with different content formats, from product photos and videos, to memes and polls, to see what works best. And make sure that in addition to posting content, your team is also actively engaged with responding to any comments you get on your posts.
Search Engine Optimization
Search Engine Optimization (SEO) is a core practice for any effective ecommerce marketing strategy. Search engines drive nearly all online traffic and are imperative to bringing potential buyers to your website.
Start by researching keywords related to your products. Try to focus on the particular questions people are asking regarding your products and how they talk about the industry as a whole. Then, work these terms and phrases into your website copy, blog posts, and metadata. This way, when potential customers search these phrases, Google will recognize your website as an authority on the topic and will rank your website pages at the top of the search engine results pages (SERPs).
Another useful SEO tip is setting up pillar pages and topic clusters. This means picking a few broad topics you write content for, linking the relevant pages or articles together, and having them separately link to one major topic page.
For example, if your business focuses on selling t you are going to want to find the most searched issues people face with their pool. A good topic cluster would be something like "maintenance", and you could write a handful of articles about all the different ways to care for your above ground pool.
Then you would link all these articles together, and place them all under one landing page for pool maintenance.
This better organizes your website content for Google's algorithm, so when shoppers search for something like "how to safely clean my above ground pool" a search engine will recognize your website as an authority on the topic and be able to quickly and easily find a relevant blog on the more specific problem.
-- Article Continues Below --

Read Now: The Complete Ecommerce Resource Center
Reviews on Your Product Pages
Online reviews matter. Big time.
In fact, studies have shown that well over 80% of people incorporate reviews into their buying decision and even trust them as much as they trust their friends.
If you're operating your store on WordPress or Shopify, there are a number of apps that will get you started on integrating reviews into your product pages. Some of the more popular ones are Loox and Judge.me for Shopify, while Taqyeem and Starfish work well on WordPress
Referral Promotions
Word of mouth referrals are one of the most effective ways to bring new customers in to your ecommerce store, so offering discounts and other rewards to customers who recommend you to their friends is a real win-win situation.
Not only are you enticing your most loyal customers to return to your store, you are engaging them to generate new leads for your business.
This is an effective, and cost-friendly addition to any ecommerce marketing strategy.
Guest Post to Other Websites
Find out what popular websites your customers visit and see if you can contribute an article. When you do so, make sure to promote your business and add backlinks to your ecommerce site.
In terms of brand promotion and expanding your customer base, it's probably best to stick to highly respected publications that you want your business to be associated with, and preferably those with a well established following.
For SEO reasons, it's also helpful to focus your efforts on websites with a high Domain Authority. Domain Authority (DA) is a score, between 0 and 100, developed by the company Moz, that indicates how strong a website's presence is in search engine results. When a website with a high DA links to your site, it's a powerful indicator to Google and other search engines that can help your site increase it's search rankings.
---
Discover a solution built to help you block the negative effect coupon extensions have on your bottom line.
---
Automated Email Marketing
Automating your email campaigns not only frees up your time and allows you to focus on different areas of your business, it also opens up huge opportunities for you to engage with your customer and increase your revenue.
Set up trigger emails that fire whenever a new customer converts on your site, abandons a purchase, or has not been active on your site for some time, offering them a discount on products you found them browsing on. This way they are enticed to return to your ecommerce business.

We have a whole separate article about the advantages of email marketing automation. check it out to see how it can improve your cart completion rates.
Invest in Pay Per Click Advertising
Pay Per Click (PPC) advertising is one of the most straightforward ways of advertising your ecommerce business, though it can be more expensive than some of the previous options we've outlined.
Just as it sounds, with PPC you pay for every click that your ads get on a given platform. If it's through Google, your site will start appearing at the top of their search results pages or on related YouTube videos, among a very long list of other websites in the Google Display Network. With social media platforms like Facebook and Instagram, your ad will appear in front of customers through their news feed or in their stories.
Get to know Google Ads and Facebook Blueprint to familiarize yourself with these platforms, and learn how to get your products in front of the right audience.
Influencer Marketing
Getting an endorsement from a popular online spokesperson who has a loyal audience can not only put your products in front of your ideal customer, it can also be an effective way to boost your brand awareness and reputation by being promoted by an established and trusted source.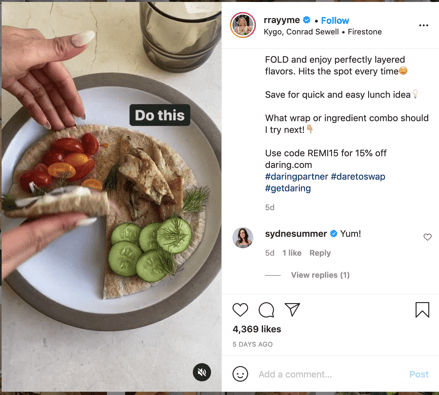 Spend some time researching where your ideal customer is spending their time and who they trust and follow. If you're on a budget, you can send out surveys asking who their favorite influencers are and why. If you have more to spend, you can engage an influencer marketing agency to help pair you with the right influencers and manage your campaigns.
Getting someone like Kim Kardashian to promote your products might be effective, but it's not realistic—or affordable—for the vast majority of brands. The good news is that working with smaller influencers can be just as effective on a much smaller budget.
Create a Shoppable Instagram Account
Mobile ecommerce sales, or M-commerce, now makes up nearly half of all ecommerce sales. Instagram allows you to take advantage of this trend by giving you the option to set up a shop through your brand's Instagram profile. You can even add a link to your full ecommerce store.
Instagram has about 1 billion active users, and being a naturally visual and engaging platform, it's an ideal place for you to market your products.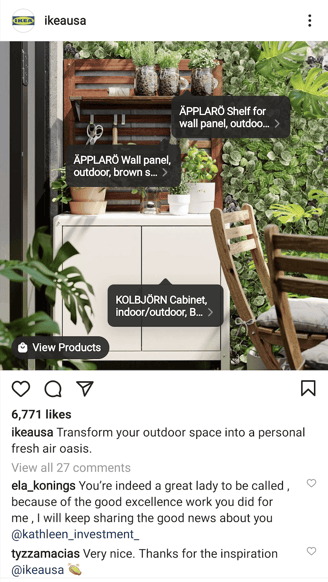 Find Your Avenue
All these can be effective ways to reach new customers and expand awareness of your online business. But, it's also important to remember not to spread yourself too thin. Experiment and find which marketing strategies work best for your business and which do not.
Developing your marketing strategy is just the start. It's equally important to keep a keen eye on your performance, by channel, and make the necessary changes when it's time to adapt or expand.