by Kathleen Booth, on Jun 1, 2021 9:00:00 AM
Whether you are just starting out in the world of ecommerce, or looking for solutions for your already successful online business, having the right tools to help you more efficiently run and market your business can quickly drive results.
As more retailers invest in digital transformation, the typical tech stack for an ecommerce business has grown, as have the number of options available to online retailers.
If you're looking to streamline your business operations, give your online store some more functionality, or improve your omnichannel commerce strategy, the following tools are a great place to start.
Shopify
Shopify is one of the fastest growing names in ecommerce, more than doubling the volume merchandise sold on the platform from 2019 to 2020.
An easy, customizable plug and play solution with thousands of apps to choose from, this is a cost effective option for those who are ready to set up their ecommerce store but might not be the most technically skilled.
--Article Continues Below--
--Article Continues Below--
BigCommerce
BigCommerce is similar to Shopify with its drag and drop customization, but claims to offer more functionality out of the box as well as lower costs on third party apps.
Professional reporting functionality, a built-in ratings and review system, a built-in page builder, automatic currency conversion, and real-time carrier shipping quotes are all features you will find on BigCommerce that are absent from Shopify's standard plan.
However, BigCommerce is a bit more expensive upfront. If you're looking for a simple way to start your ecommerce business, read up on Bigcommerce and Shopify to see which one is the best fit for your needs .
eComEngine
Looking for ways to boost your Amazon sales? Look no further than eComEngine.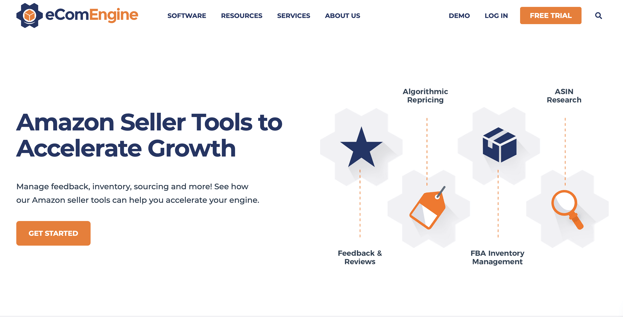 If you already have a WordPress website or blog and want to add ecommerce functionality to it, WooCommerce is the platform for you.
Free to install and built specifically for WordPress, WooCommerce is one of the most popular ecommerce solutions because of how easily it integrates into your pre-existing WordPress site.
It's also highly customizable and offers a free base product, allowing online businesses with little overhead to build their store around their needs.
Easy Digital Downloads
Another great ecommerce solution for WordPress, Easy Digital Downloads is a free extension that helps you sell your digital inventory.
Features include the ability to accept a wide variety of payment options, detailed bookkeeping, customer purchase history, and tools to help you create discount codes to help move traffic to your business.
From PDFs to ebooks and even your own WordPress plugins, Easy Digital Downloads is a simple and quick way to start monetizing your digital products.
--Article Continues Below--
--Article Continues Below--
Oberlo
Oberlo is a Shopify-backed marketplace for dropshippers looking for new suppliers. With thousands of products to choose from you will definitely find one to fill your niche.

If you are new to dropshipping, signing up also gives you access to podcasts, 101 courses, and ebooks to help you get started.
Canva
Canva makes graphic design easy for the non-designer. Use it to create compelling images and graphics to share across your social media channels, or to help display your products on your website.
If you have little to no experience using a more challenging tool like Photoshop, check out Canva's easy drag and drop system as a helpful alternative.
Metrilo
Metrilo is a great alternative to Google Analytics that is also its own CRM platform. And unlike Google Analytics, Metrilo will update your order statuses in real time, and has a number of options you can filter through.
Along with this, their CRM platform allows you to track customer activity and set up automated email marketing campaigns.
Reduce cart abandonment with follow up emails, bring back customers with discounts, and reward loyal shoppers with special offers using Metrilo.
Jungle Scout
If you've decided to start your ecommerce business through Amazon, Jungle Scout can help you do everything from finding high-demand products to optimizing your search results with keywords.
Jungle Scout offers tons of tools to help you take full advantage on your online market. Track your daily sales, send out targeted email campaigns, and compare your keyword and search results to your competitors, just like you would using Shopify or similar solution.
Sellbrite
Sellbrite is a GoDaddy-backed, multi-channel selling tool that takes all of your sales channels (whether you're selling through etsy, Amazon, your own ecommerce site, or a combination of channels) and allows you to manage your inventory and ship orders, all in one centralized place.
This will help you keep track of how sites are performing against each other as well as make sure you don't miss an order while trying to manage multiple channels.
And, if you're shipping less than 30 orders a month, it's totally free.
Easy Ship
Easyship is a shipping platform that connects sellers and marketplaces to couriers.
Quickly find the fastest shipping for the best prices that your customers will love. You can automate and manage your shipping across all your channels through their cloud based shipping, and rest easy knowing your orders are being carried out at a reasonable time for your clients.
Wrapping Up
The future of ecommerce will increasingly be driven by innovations in the technology that powers online businesses. Running a successful ecommerce business comes with a long list of manual and tedious tasks that can be easily automated with the right tools.
If you find yourself struggling to keep up with your online business as your orders grow, or you want to improve efficiency or performance at your more mature business, these tools should help you automate and streamline your ecommerce business.